RESPONDING WITH CARE |
                AVAILABLE 24 HOURS DAY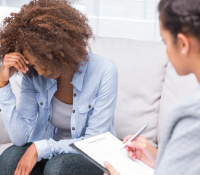 Trillium embraces North Carolina's Crisis Solutions Initiative to ensure people know where to get help quickly and effectively rather than going to a hospital emergency room when experiencing behavioral health or intellectual/developmental disability crisis. Please view our Weathering the Storm brochure to learn how to prepare yourself and your family ahead of time. Anyone experiencing a true medical emergency should always call 911.

Types of emergency/crisis services available in our area include:
Mobile Crisis Teams, with IFS and RHA
Mental Health First Aid Classes
NC START
Facility-Based Crisis Centers

A Regional Crisis Intervention Team (CIT) Training Program
Telepsychiatry technology in various provider sites
Crisis Chat (see link on right menu)
We also require Network Providers to develop Person-Centered Crisis Prevention Plans with persons they serve and to be accountable for their first-responder roles and responsibilities.
Any person may receive crisis and emergency services in eastern North Carolina for mental health, substance abuse, and intellectual/developmental disabilities issues. Regardless of where you live, work or go to school, you can call our toll-free 24-Hour Access to Care line 1.877.685.2415 at any time. A trained person answering the phone will connect you with services to address your situation.
---
Mobile Crisis Teams
Mobile Crisis Teams work for Network Providers who contract with Trillium. Teams are made up of experienced clinical staff well-trained in crisis prevention and stabilization techniques. When a person experiences a behavioral health crisis, a member of the Mobile Crisis Team will respond and meet the person wherever it may be--at home, at school, at work or in the community. If you or a loved one is experiencing a mental health or substance use crisis, please call the Mobile Crisis Team serving your county listed below.
Counties Trillium Covers
Mobile Crisis Team
Beaufort
Brunswick
Bertie
Camden
Carteret
Craven
Columbus
Chowan
Currituck
Dare
Jones
Gates
Hyde
Hertford
Martin
Nash
New Hanover
Northampton
Onslow
Pamlico
Pasquotank
Pender
Perquimans
Pitt
Tyrrell
Washington
Integrated Family Services, PLLC
1-866-437-1821
Brunswick
Carteret
Craven
Jones
New Hanover
Onslow 
Pamlico
Pender
RHA Health Services, Inc.
1-844-709-4097 
---
Telepsychiatry
Telepsychiatry incorporates modern technology to connect psychiatrists and behavioral health professionals with people who have mental health or substance use challenges living in remote areas with little to no medical resources. In 2009, a partnership between RHA Health Services, Inc., the Department of Psychiatry at East Carolina University's Brody School of Medicine and Trillium piloted a 13-county Telepsychiatry program in eastern NC. Search our Network Provider Directory to find a Telepsychiatry location near you.
---
Crisis Intervention Team Training (CIT)
Crisis Intervention Team (CIT) training is a jail diversion and de-escalation model of training for law enforcement during which officers gain a better understanding of the needs of individuals with mental illness, substance use disorders or intellectual/developmental disabilities.
Learn more about our Regional CIT Training Program.
---
Mental Health First Aid
Mental Health First Aid is an international, evidence-based program designed to improve knowledge and modify attitudes and perceptions about mental health and related issues. The course includes how to respond to individuals who are experiencing one or more acute mental health crises or in the early stages of one or more chronic mental health conditions.
There are two courses--one for adults and one for adults who work with youth. To register for a free class, go to our News & Events page and search for Mental Health First Aid. To find out how to set up a class in your community, call Trillium at 1.866.998.2597 and ask to speak to a Mental Health First Aid instructor.
For more information about Mental Health First Aid, click on the link below.
---
NC START
(Systemic, Therapeutic, Assessment, Respite, and Treatment)
NC START is a community-based crisis prevention/intervention service for adults 18 and older with Intellectual/ Developmental Disabilities (I/DD). It provides crisis response, training, consultation, and respite to individuals who experience an emergency due to mental health or complex behavioral health issues. The goal is to create a person-centered support network that is able to respond to emergency needs at the local level allowing individuals to remain in their homes or community placements.
To learn more about NC START in North Carolina, click on the following links:
To learn more about emergency and crisis services in North Carolina, click on the following links.
---
Trillium requires priority admission to all women who are pregnant and injecting drugs, pregnant and using substances and other individuals who are injecting drugs.