As a managed care organization, Trillium coordinates services for mental health, substance use, and intellectual and developmental disabilities in 26 counties in eastern North Carolina. In addition to contracted services, Trillium promotes initiatives as part of its reinvestment plan—one-time funds that Trillium can spend locally as a result of savings by managing Medicaid funding and services efficiently and locally. In addition to contracted services, Trillium promotes initiatives it supports through the Neighborhood Connections team and other departments.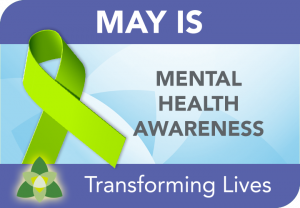 This year marks MHA's 70th year celebrating Mental Health Month!
When we talk about health, we can't just focus on heart health, or liver health, or brain health, and not whole health. You have to see the whole person and make use of the tools and resources that benefit minds and bodies together. That's why this year we are expanding upon last year's theme of #4Mind4Body.
May is Trauma Awareness
Injury and violence prevention have been a core value of the American Trauma Society (ATS) since we were founded in 1968. This year focus is "Firearm Injury Prevention: Everyday, Everyone, Everywhere".
More May Awareness
| | |
| --- | --- |
| Since 1984, the Asthma and Allergy Foundation of America (AAFA) has declared May to be "National Asthma and Allergy Awareness Month." | National Physical Fitness and Sports Month is a great time to spread the word about the benefits of getting active. |
| May is National Cystic Fibrosis Awareness Month. Across the country, thousands of volunteers will come together to raise awareness about this devastating disease.  | National Prevention Week is an annual health observance dedicated to increasing public awareness of, and action around, mental health and/or substance use disorders. |
Upcoming Events:
Mental Health First Aid - Veterans - Jacksonville, NC
May 6, 2019
Mental Health First Aid for Veterans, Military Members, and their Families teaches you how to identify, understand and respond to signs of mental illnesses and substance use disorders.
2019 Mental Health Expo Conference
May 15, 2019
This event is for individuals, family members, caregivers and providers. Free and informative for the whole family.
9th annual Crystal Coast Run/Walk for Autism - Beaufort, NC
June 1, 2019
Join us for the 5K competitive race, the awareness walk, or the kids' dash, at the Beaufort waterfront, Beaufort, NC. Come be a part of our community for this fun day!