ACCESSIBLE PLAYGROUNDS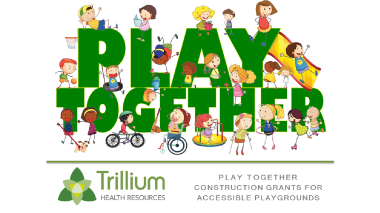 Trillium's Play Together Accessible Playground grants have provided towns with the ability to build fully accessible, all-inclusive playgrounds for individuals with special needs and physical disabilities. Locations throughout eastern North Carolina now have 31, all-inclusive playgrounds, thanks to this grant from Trillium Health Resources.
Equipment varies in each playground and may include a Liberty Swing (accessible while in a wheelchair), Cruise Line, and zip line. Playgrounds have a rubberized surface to ensure safety for children and adults with mobility challenges, as well as wheelchair accessibility — all accommodations providing an opportunity for individuals of all ages and abilities to play together outside. 
Play Together Accessible Playgrounds
Grants were awarded to the following 31 locations: Beaufort, Bertie, Brunswick, Camden, Carteret (Emerald Isle and Morehead City), Chowan, Craven (New Bern, Havelock and Dover), Currituck (Barco and Point Harbor), Dare, Gates, Hertford, Martin, Nash, New Hanover (Wilmington and Wrightsville Beach), Northampton, Onslow (Jacksonville and Swansboro), Pamlico, Pasquotank, Pender (Hampstead and Burgaw), Perquimans, Pitt (Greenville and Ayden), Tyrrell and Washington.  
Click on the map for more details
Grants Funding for the Play Together Construction Grant for Accessible Playgrounds is a result of savings from operating as a Medicaid 1915 (b)(c) Waiver site. 
By managing Medicaid funding and services locally, we've been able to achieve cost efficiencies that allow us to reinvest savings into programs that increase resources and community engagement opportunities for the individuals and families we serve.
Reinvestment dollars were allocated to award to communities for the development of accessible playgrounds that allow young people of all abilities to come together. 
Each county received a grant amount appropriate for the scope of work and land space allocated for developing or updating a playground.
As a result of the Covid-19 pandemic, Trillium provided three hand sanitizer stations at every inclusive playground to help fight the spread of the virus so that children can Play Together and Play Safe.
Playground Sanitation Stations