TESTIMONIALS | SUCCESS STORIES | AFFIRMATIONS
Recovery. Enrichment. Wellness. Self-Determination. Independent Living.  These are all very powerful goals to strive for and achieve. 
People who accomplish these outcomes are often happy to share what their success means to them. Participants in Trillium-sponsored events and initiatives also regularly express the insights and benefits they gained from the experience.  Read people's own words about their rewarding results! 
Our TRANSITIONS TO COMMUNITY LIVING (TCL) participants have been so successful, we have a whole page devoted to their testimonials. Go to Transitions to Community Living Stories to read about their personal victories!
---
COA PACE Students Prepare Themselves for Emergency Situations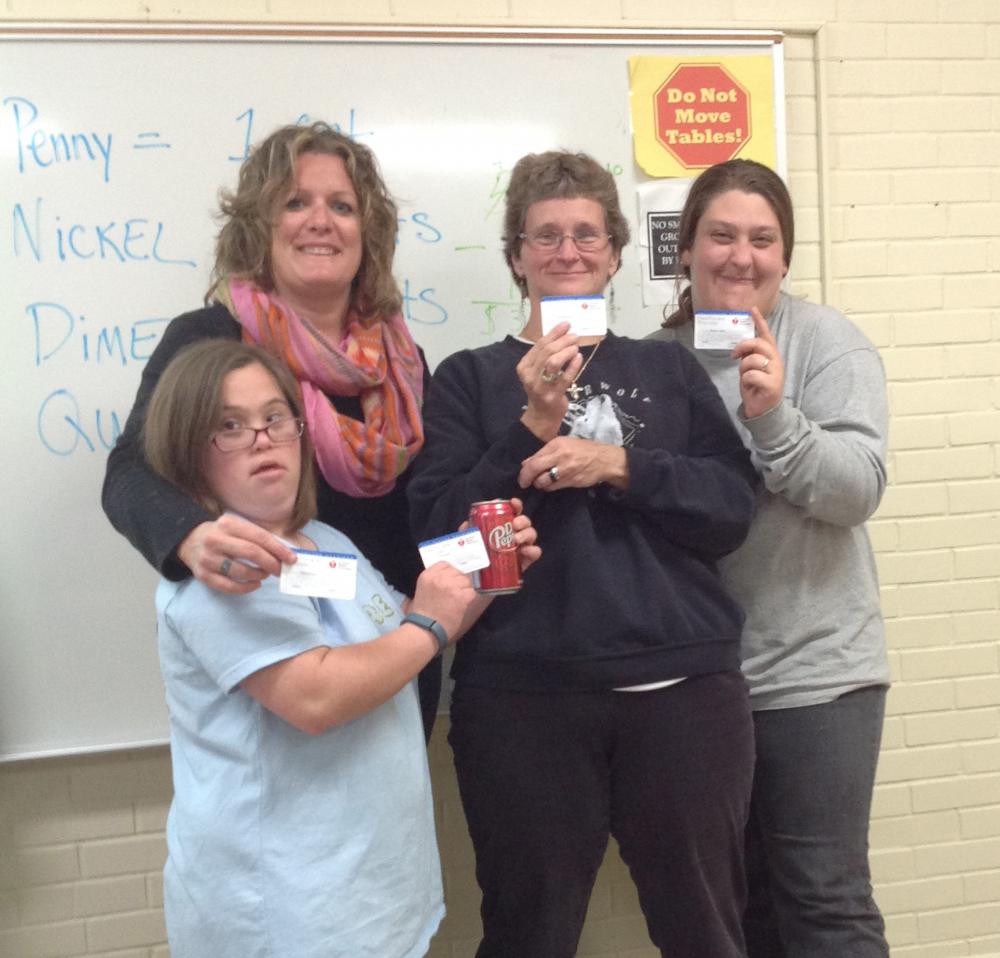 COA Pathways to Accessible College Experience (PACE) students Caroline Parks, Dottie Patton, and Rebekah Miller along with PACE coordinator, Mandy Earnest, recently completed courses in CPR and First Aid and were awarded certification cards for their efforts.  The class was taught on October 13th, 2014 by Virginia Midgett with the Dare County EMS.  This certification is in accordance with one of top priorities of the PACE program; to engage students with intellectual disabilities in opportunities to increase their ability to live independently and take ownership of their own health and wellness.  These students continually gain skills to achieve their independence and now have the confidence and knowledge to assist in various health situations.
"I just wanted to express my gratitude!"
I wanted to send a note of appreciation for the summer camp with Easter Seals (in New Bern). This was my daughter's 2nd year attending and she had an awesome time, again! Jermaine and his staff are excellent and keep these children motivated with activities all summer! Madison has made new friends and has had great experiences. She was sad when it was over, but she's already talking about next summer!
I am a Social Worker with Community Care Plan and work closely with Khristine Brewington in Care Coordination. I'm usually the one advocating for services for patients, but as a parent of a child on the receiving end, I just wanted to express my gratitude!
~Clayton Gaskins - Parent of Easter Seals Summer Camp participant
---
"Look mom, I can ride a bike now!"

"My family was extremely fortunate to be able to attend the Families Realizing Resources Together Conference in New Bern, and thoroughly enjoyed every minute.  We were so impressed with all the employees, the accommodations, food, and speakers.  My son also had a wonderful time in the camp that was graciously provided.  We came away from the conference with a lot of information that made us think differently about our son's diagnosis.  We not only came away with that, but also, with what my son called "Christmas."  The huge box of gifts was like someone went out and bought things specifically for his needs and wants.  The icing on the cake was when he won the 3-wheel bike.  For years, we have been trying to get my son to ride a bike, but he just couldn't grasp it or even had a desire.  When he won this bike, he got on it and started riding it, and said "Look Mom, I can ride a bike now!"  His smile and face full of excitement had me crying.  Since we returned home, he has enjoyed his bike so much that it has been a chore to get him inside.  Thank you from the bottom of our hearts for all the time, energy, dedication, and planning it took to put this weekend together.  What an awesome job done! "  
~Karen Manning, attended the Families Realizing Resources Together Conference, 
---
 Mommy Will See You Soon 
Being addicted for more than 30 of her 43 years, "Nikki" burned all her bridges, was shunned by her family and lost custody of her four year old son.  "I reached a spiritual bottom I could not begin to explain," she wrote.  After a brief inpatient stay, no job and realizing she could not move back to her hometown and that old way of life, Nikki sought out a halfway house in Greenville.  She was accepted into the PORT Substance Abuse Comprehensive Outpatient Treatment (SACOT) program and contacted the Vocational Rehabilitation (VR) office.  She felt good about her decision. 
Then, the friend who was helping her financially lost his job, the government shutdown affected her VR supports and she was unable to keep up with her rent. "My recovery began falling apart. I started feeling alone, frustrated and defeated.  I was looking for work but the doors seemed to slam shut one after another.  I was losing confidence in myself."  One morning at SACOT, Nikki had a message to call Amber, a Trillium Care Coordinator.  "Within a week she had arranged to have my past due rent paid, plus four more weeks rent to relieve some of the stress," Amber called me numerous times to check on my wellbeing and to see if there was anything else she could do to help me grab and hold onto my sobriety.  I can see now there are people out there who want to help and see me succeed.  It means the world to me to have someone believe in me.  When my little boy calls me at night, I can tell him with confidence, 'Mommy will see you soon.'
 ~ Anonymous ~ 
---
I Like Making My Own Decisions 
My name is Myrtle Moore and I am an African-American woman. I am 60 years old and my current diagnoses are Moderate Mental Retardation or DD, allergies and Osteoporosis. Both of my parents are deceased and I have no siblings.  I have a hard time with communication skills, understanding written information and will become confused and upset if I don't understand what is going on.  I don't initiate socialization well, but once I am prompted and comfortable with the situation I will become more assertive with interaction and be more conversational.
I used to live in a group home and then they helped me get my own apartment.  I shared the apartment with a roommate but now I live by myself. When I first lived by myself I was afraid but I got used to it. I like making my own decisions of when I can get up, go to bed, have my friends over at my house, watch what I like on TV and eat what I want and go out when I want to. I don't like to ride CARTS van but I have to sometime.  I have a boyfriend and he can visit when he wants to.
My list of natural supports is very short. I have made new friends since moving in the building and if I ask for help with something they will help, but the supports I receive have allowed me to maintain my independence, gain better self-esteem, make new friends and give me encouragement to be more assertive and more independent in the community.  I'm an assistant at the library for children's story hour, I help at the Arc, and I do Meals on Wheels.  The people say they like for me to come and I like to do it. 
I go to a community exercise class to help with by bones.  My doctor says I am healthy as a horse. I require assistance and supports to maintain/improve my independence for my current living arrangement like cooking, cleaning, laundry, scheduling appointments, understanding written information, communication skills, interpersonal and social skills, safety awareness, personal business, and financial obligation. I love my life and my home.
~ Myrtle Moore, I/DD Services Recipient  ~
---