Trillium Health Resources recognizes monthly awareness events sponsored by local or national organizations and agencies. By helping to publicize these events, we bring attention to these causes to help reduce stigma and share the need for behavioral health services to address them.
As a managed care organization, Trillium coordinates services for mental health, substance use, and intellectual and developmental disabilities in 25 counties in eastern North Carolina. In addition to contracted services, Trillium promotes initiatives as part of its reinvestment plan—one-time funds that Trillium can spend locally as a result of savings by managing Medicaid funding and services efficiently and locally.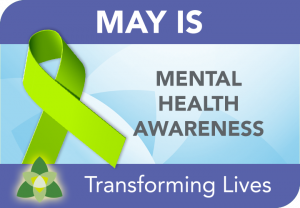 When we talk about health, we can't just focus on heart health, or liver health, or brain health, and not whole health. You have to see the whole person and make use of the tools and resources that benefit minds and bodies together. That's why this year, our May is Mental Health Month theme is Fitness #4Mind4Body.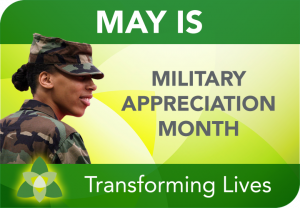 Congress designated May as National Military Appreciation Month in 1999 to ensure the nation was given the opportunity to publicly demonstrate their appreciation for the sacrifices and successes made by our service members -- past and present.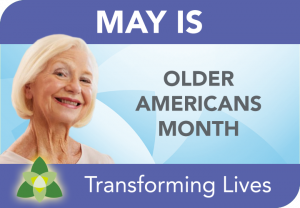 Every May, the Administration on Aging, part of the Administration for Community Living, leads our nation's observance of Older American's Month. The 2018 theme, Engage at Every Age, emphasizes that you are never too old (or young) to take part in activities that can enrich your physical, mental, and emotional well-being. 
 
National Prevention Week - May 13 -19
National Prevention Week is an annual health observance dedicated to increasing public awareness of, and action around, mental and/or substance use disorders.
Upcoming Events:
May 09, 2018 - Mind Matters: Facing the Epidemics - a Mental Health Conference
This year's conference will focus on addressing mental health and substance use epidemics in the Southeast. Will provide community providers, clinicians, and community members the resources to ensure quality care for those who suffer from mental health and substance use disorders.
Details HERE
June 14, 2018 - Mental Health America 2018 Annual Conference: Fit For The Future
Our Fit for the Future theme will explore what we can do personally as individuals to keep ourselves healthy in the 21st Century – how data and personal narratives are increasingly connecting exercise and nutrition to overall mental health, and how leaders in the nutrition and fitness fields are using this information to promote overall health and well-being and impact the mental health of millions.
Details HERE
May 18, 2018 - First National Older Adult Mental Health Awareness Day
The SAMHSA and the Administration for Community Living, together with the National Coalition on Mental Health and Aging, invite you to mark your calendar for the first National Older Adult Mental Health Awareness Day. The event will be live webcast, and registration is required.
Details HERE
May 17-18, 2018 - Autism in the East: Interventions and Resources
This second annual conference will focus on services and resources for professionals and families in the east. This conference will offer a variety of topics and perspectives to include substance use in the autism community, routines in natural environments, writing behavioral plans, guardianship, music and expressive therapy, the latest research, and much more.
Details HERE
For the list of all the events visit our events page.
---
Coming Next Month...