Integrated Care for Improved Health Outcomes
What is Tailored Care Management (TCM)?
Tailored Care Management is an important part Trillium's Health Plan. Tailored Care Management provides whole-person care from all health care providers. Whole person care brings together all of a person's needs, including behavioral health, physical health, pharmacy, and unmet health-related resource needs. Tailored Care Management means better health outcomes for our members.
Member Choice in TCM
You have a choice in where you receive Tailored Care Management:
Care Management Agencies (CMAs): provider organizations with experience providing behavioral health, intellectual/developmental disability, and/or traumatic brain injury services to our population.
Advanced Medical Home Plus (AMH+): primary care practices whose providers have experience providing primary care services to our population.
Here are some things to think about when you choose how you get Tailored Care Management:
the providers you are seeing now,
your specific health care needs,
how serious are your physical medical needs,
where you live. 
Trillium will help match you to a Care Manager that has specialized training to meet your needs. You may change your Care Manager twice a year for any reason and at any time with a good reason. You can choose not to have a Care Manager at any time by calling Member and Recipient Services at 1-877-685-2415 or completing the form in the Member Portal.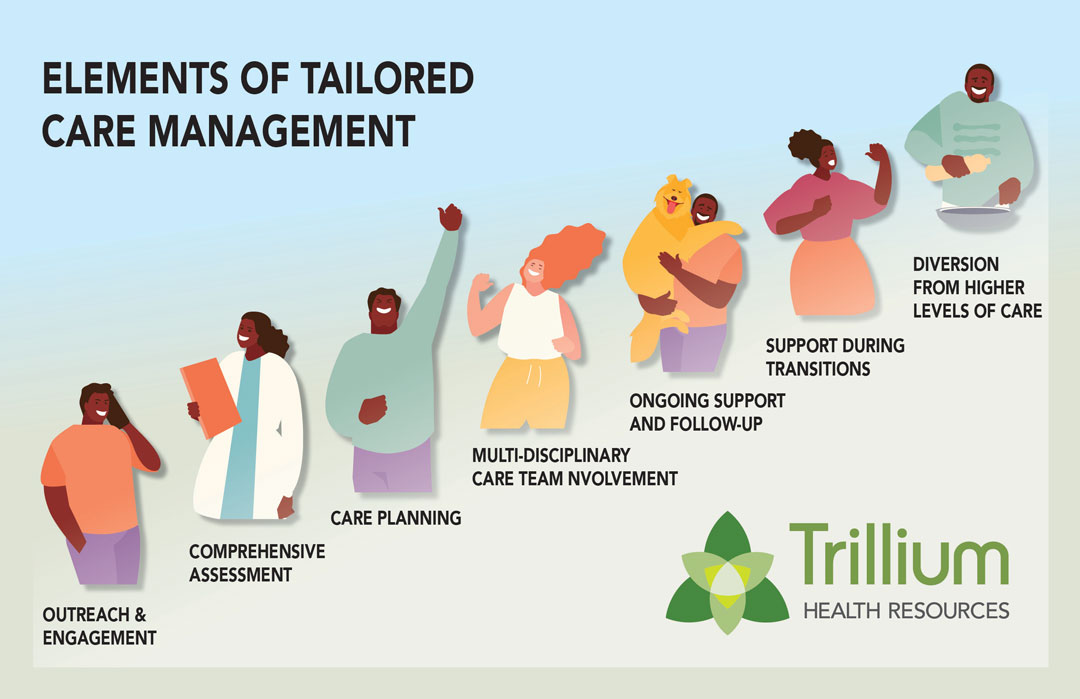 Trillium members can stop getting Tailored Care Management at any time. They will still be supported as needed through care coordination and care transitions (see Member Handbook for more information). 
If you choose to stop Tailored Care Management
We will still help those members through care coordination and care transitions who are not in Tailored Care Management. Care coordination will help with finding housing, handling legal issues related to member's health, and other unmet health-related resource needs. Trillium will also help with care transitions such as moving from one clinical setting to another. 
Please use this link to complete the form to stop getting Tailored Care Management.
What is TCM for State-Funded Recipients?
Although there will be many things that are similar to Tailored Care Management received by Medicaid members, there are some differences for state-funded recipients. State-funded recipients with the highest level of need will receive Case or Care Management.  
For recipients with behavioral health diagnoses, Case Management is available for children and adults with serious mental health or substance use disorder needs. Trillium has a state-funded behavioral health Case Management coordinator for case management services. For recipients with I/DD and TBI diagnoses, Trillium provides care management.  
Recipients can get case management if they cannot receive Medicaid and meet certain criteria.
Trillium has a waitlist for those state-funded recipients who are waiting to receive Care or Case Management. Providers and others can suggest recipients be added to the list; please call Trillium at 1-877-685-2415 if you feel you need to be placed on this list.