Victory Junction Family Weekend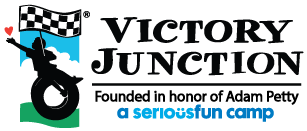 People with behavioral health conditions or intellectual and/or developmental disabilities (I/DD) can sometimes feel very lonely and isolated. Public activities that encourage people of all abilities to join in can help create awareness that there are more similarities than differences between us.
Trillium has partnered with Victory Junction, an inclusive camp located on 84 acres in Randleman, N.C., to offer family weekends for Trillium members. Victory Junction provides life-changing camping experiences that are exciting, fun, and empowering, at no cost to campers or their families.
Victory Junction provides a chance for families to bond together. Members build self-confidence in their abilities while having fun. All activities are inclusive and suitable to people of all ages with different needs and diagnoses. Victory Junction has an on-site medical center, food service with special foods according to diet needs, and cabins that sleep up to eight individuals.