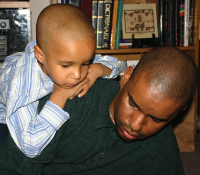 Trillium helps adults and children get care for serious mental health and substance use conditions. We hire licensed staff to manage and approve those services to help people get the care they need when they need it. We work with providers in our network who offer this care directly to members and recipients. You may also hear mental health and substance use conditions called "behavioral health."
Please read below for more information on behavioral health conditions. You can also view our Benefits Plan page for more information on the services we help coordinate.
Mental Health 
Mental health conditions are very common. Nearly one in five adults have experienced some kind of mental illness in the United States.* While most conditions are minor, some individuals have serious mental illness (SMI).
Treatment is possible. Whether you are feeling depressed, overly worried, or think you may hurt yourself or someone else, talk to your primary care provider or Tailored Care Manager today.
Substance Use
Using illegal drugs like cocaine and methamphetamine, as well as prescription drug misuse and alcohol, can all lead to health problems or addiction. Some people use drugs to deal with stress or ignore other health conditions. 
There are a variety of treatment options available for all kinds of substance use. If you are worried about your or a loved one's drug use, talk to your primary care provider or Tailored Care Manager today.
---
Tailored Care Management
Tailored Care management is a major function at Trillium. It combines behavioral health services, I/DD, primary health care, and natural and community support services. We find the right care for each person we serve.
* Sources:
  National Institute of Mental Health
---
Trillium requires priority admission to all women who are pregnant and injecting drugs, pregnant and using substances and other individuals who are injecting drugs.