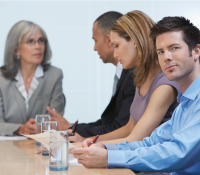 Governance | Expertise | Local Representation
Trillium Health Resources has a two-tiered governance structure to keep its administration close to the communities we serve. The first governance level is made up of three Regional Advisory Boards. In turn, these Advisory Boards elect representatives to make up the Trillium Governing Board, our top level of governance.
Local Management Entities/Managed Care Organizations like Trillium Health Resources are led by a Governing Board as designated in NC General Statutes. The Governing Board is charged with collaboratively planning, budgeting, implementing and monitoring services through policy-making actions.
Trillium Health Resources serves an area with a high population of people and large enough to waive some Governing Board structure requirements as noted in G.S. 122C-118.1(c). However, Trillium depends on the diversity and expertise of these various representatives. The two-tiered governing structure allows Trillium to maintain regional representation while expanding the variance of Governing Board members.
The make-up of the Trillium Governing Board includes
1 County Commissioner from each Regional Advisory Board
The Chair from each Regional Consumer & Family Advisory Committee
2 more representatives from each Regional Advisory Board that meet membership requirements as noted in G.S. 122C-118.1(c)
Trillium Governing Board Roster
Trillium Governing Board Meeting Schedule
The Governing Board meetings are held in the boardroom of the Trillium office located at 201 W. First Street in Greenville, NC. or WebEx (To be determined) beginning at 4:00 p.m. on the 4th Thursday of every other month as follows:
Meeting Schedule 2023
February 23
April 27
June 22
Governing Board Meeting Minutes
If you need to obtain minutes for meetings prior to 2017, please contact
Lisa Fuller
, Clerk to the Board, at
Lisa.Fuller@TrilliumNC.org