Changing How We Do Healthcare
Trillium and its provider network are moving beyond the traditional fee-for-service model to create innovative value-based arrangements. Value-based care emphasizes outcomes so that payments are based on achieving realistic health goals, rather than payments based on number of visits. Value-based care also promotes the "Quadruple Aim" of healthcare promoted through Medicaid Transformation. Valued-based care will be at the forefront of Trillium's business efforts to continue achieving these goals:
high-quality care
cost-effective care and treatment
better health for our communities
improved member and provider satisfaction
Quadruple Aim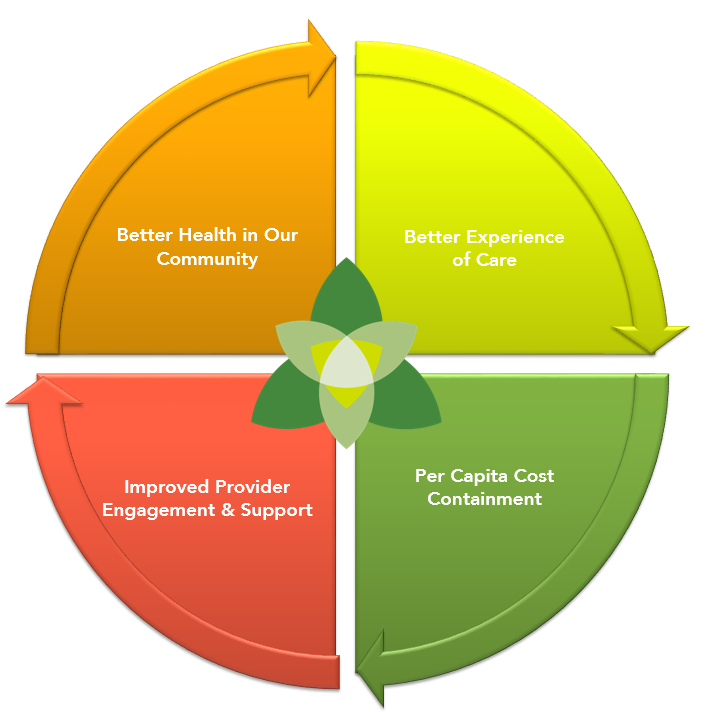 Practice Management
Trillium's  Practice Management department is responsible for leading the development and implementation of value-based care. 
The Practice Management department consists of a multi-disciplinary team specializing in clinical and operational health care delivery. This team develops and leads innovative strategies to increase the use of value-based purchasing arrangements that are designed to promote and/or incentivize the following:
Measurable improvements in member health
Incorporation of evidence-based quality metrics 
Flexible design to meet the needs of diverse provider specialties
Quantifiable improvements in member healthcare experience 
Reduction in  healthcare costs per person
Integration of robust care coordination activities across provider specialties to improve whole-person health, streamline access to care
Practice Management Consultants from Trillium work directly with our network of providers to lead performance improvement projects, identify performance measures, track member outcomes, and enhance service delivery. The Practice Management team assists in the development and growth of our provider network, recruitment, and retention of high-performing providers, training, and education. We work with providers to identify priority areas and domains needed by providers to participate in alternative payment arrangements in the delivery of care, across all populations that Trillium serves.
Trillium will assess each provider's readiness to enter into value-based arrangements which may include payment linked to data reporting, quality metrics, upside risk, and downside risk. Trillium follows The Health Care Payment Learning & Action Network's Alternative Payment Model Framework to determine and categorize payment methodologies associated with value-based payment arrangements.
Health Care Payment and Learning Action Network Alternative Payment Model Framework is the industry standard for how payers and providers design alternative payment methods and set value-based payment goals. Below illustrates the categories in which value-based payment methods are classified: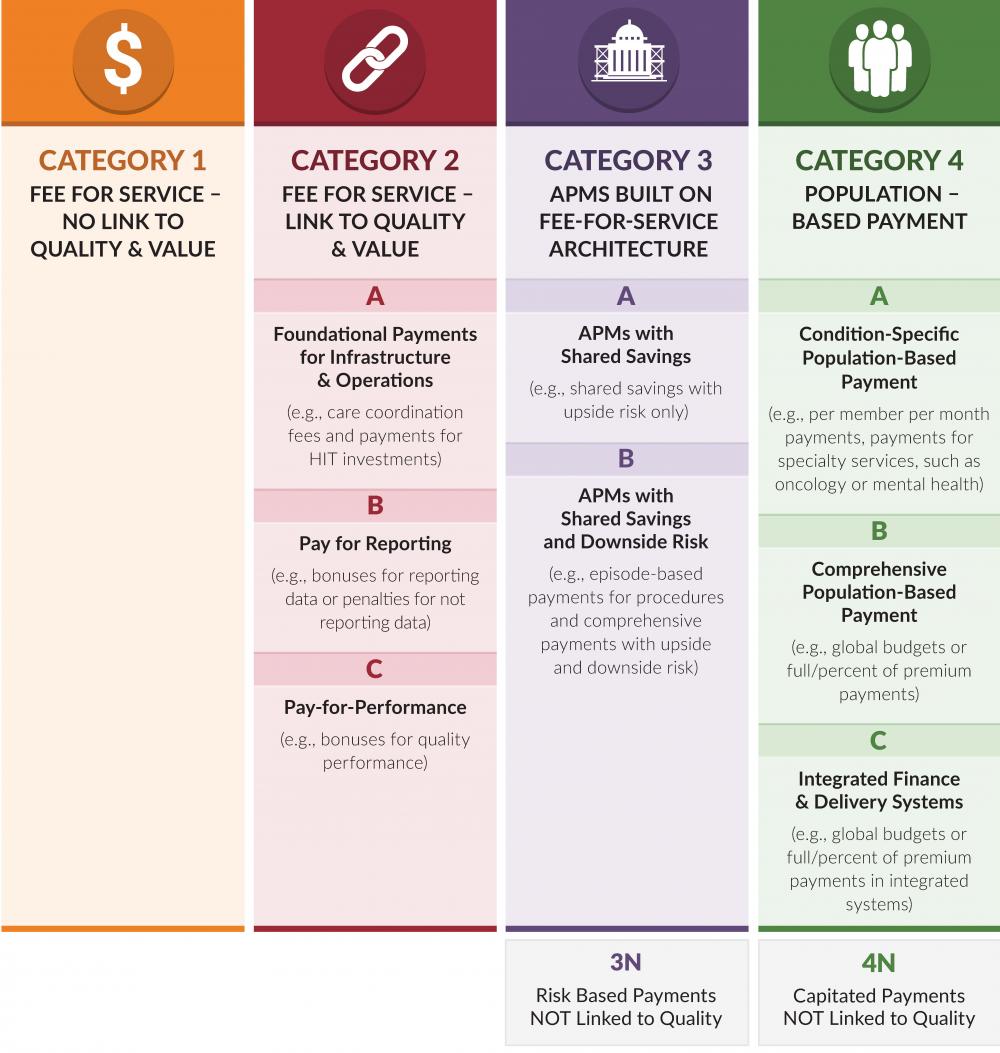 Trillium's Value-Based Purchasing Provider Learning Series
Value-Based Purchasing Provider Training: located on our Provider.MyLearningCampus.org site
Value Based Purchasing Series Part 1: The drivers shaping the movement to a value-based contracting business model. Key competitors and potential partners.
Value Based Purchasing Series Part 2: Are you ready for value-based reimbursement? An Executive Guide for assessing readiness in a value-based market.
Value Based Purchasing Series Part 3: Creating a focus on what matters to customers. Aligning culture and technology to drive performance. Driving success with key performance indicators.
Value Based Purchasing Series Part 4: Implementing a market approach to new service development.  Development of a new service & business cost model and the return on investment ROI) of a new service model.
Additional Resources:
Health Care Payment and Learning Action Network - North Carolina was one of four states selected to participate in a new multi-stakeholder Alternative Payment Model (APM) initiative that will build directly on North Carolina's Medicaid managed care transformation work.
NC DHHS Policy Papers - North Carolina Department of Health and Human Services has published several policy papers that begin to define requirements for value-based arrangements for North Carolina. Trillium continues to build the infrastructure needed for the future of healthcare for individuals in Eastern North Carolina.