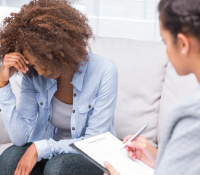 Anyone experiencing a physical health emergency or a life-threatening situation, please, call 911. 988 offers access 24 hours a day, 7 days a week to trained crisis counselors who can help people experiencing mental health-related distress. That could be:
Thoughts of suicide or hurting others.
mental health or substance use crisis, or any emotional distress,
symptoms of psychosis
In the event of an emergency event or disaster declaration, Trillium will make sure members can fill an emergency supply of medications. Certain members will also be able to get the maximum extended day supply of their prescriptions. Your care manager will share more information with you about this. 
In an emergency, you can call our Behavioral Health Crisis Line at 1-888-302-0738 24 hours a day, 7 days a week. Trained, licensed clinicians are available at all times to talk with you. 
Types of emergency/crisis services available in our area include:
Any person may receive crisis and emergency services in eastern North Carolina for mental health, substance use, and intellectual/developmental disabilities issues. No matter where you live, work, or go to school, you can contact a Mobile Crisis Team at any time (see below). A trained person answering the phone will connect you with services to address your situation.
---
Mobile Crisis Teams
Mobile Crisis Teams work for Network Providers who contract with Trillium. Teams are made up of experienced clinical staff well-trained in crisis helping people in crisis. When a person experiences a behavioral health crisis, a member of the Mobile Crisis Team will respond and meet the person wherever needed -- at home, at school, at work or in the community. If you or a loved one is experiencing a mental health or substance use crisis, please call the Mobile Crisis Team serving your county listed below.
Counties Trillium Covers
Mobile Crisis Team

Beaufort
Bladen
Brunswick
Bertie
Camden
Carteret
Craven

Columbus
Chowan
Currituck
Dare
Jones
Gates
Halifax

Hyde
Hertford
Martin
Nash
New Hanover
Northampton
Onslow
Pamlico
Pasquotank
Pender
Perquimans
Pitt
Tyrrell
Washington
Integrated Family Services, PLLC
1-866-437-1821
Bladen
Brunswick
Carteret
Craven
Jones
New Hanover
Onslow 
Pamlico
Pender
RHA Health Services, Inc.
1-844-709-4097 
Facility-Based Crisis Centers
If it is a physical health emergency or a life-threatening situation, call 911.
In an emergency, you can call our Behavioral Health Crisis Line at 1-866-990-9763 24 hours a day, 7 days a week.  A Mobile Crisis Team for your county can come to your location, or you can go to a crisis center. 
Walk-in clinics are available across our region. Similar to an urgent care for physical health, you can walk-in to these clinics for help with mental health concerns. Here is the full list of Walk-in Clinics by County. 
We also work with Facility-Based Crisis (FBC) Centers which can help you without an appointment. 
---
Virtual or telephone appointments (also called Telepsychiatry or Telehealth)
Telepsychiatry incorporates modern technology to connect psychiatrists and other health professionals with people who have mental health or substance use challenges living in remote areas with few local medical resources. Many providers for physical and behavioral health now offer virtual appointments, using a computer or over the phone. You can ask your provider about these services. 
---
Crisis Intervention Team Training (CIT)
Crisis Intervention Team (CIT) training is a jail diversion and de-escalation model of training for law enforcement during which officers gain a better understanding of individuals with serious mental illness, substance use disorders, or intellectual/developmental disabilities. They also learn about local resources for people to find the help they need rather than face arrest
Individuals experiencing or witnessing a behavioral health crisis can request a CIT-trained officer when they call 911.
Learn more about our Regional CIT Training Program.
---
Mental Health First Aid
Mental Health First Aid trains adults to recognize the potential risk factors and warning signs for a range of mental health problems, like depression, anxiety, psychotic disorders, substance use disorders, and self-injury. Trillium offers two courses, Adult Mental Health First Aid and Youth Mental Health First Aid.  
For more information or to register for a free class, visit our Mental Health First Aid page. You can also email MHFAtraining@TrilliumNC.org or call 1-866-998-2597. 
---
NC START
(Systemic, Therapeutic, Assessment, Respite, and Treatment)
North Carolina Systemic, Therapeutic, Assessment, Resources, and Treatment (NC START) is a statewide community crisis prevention and intervention program for individuals ages 6 and above with intellectual/developmental disabilities and co-occurring complex behavioral and/or mental health needs. START crisis prevention and intervention services are provided through clinical systemic consultation, training, education, therapeutic respite, crisis response, and therapeutic coaching. The model works to improve the lives of the individuals served and their families by providing services and supports using a person-centered, positive, multidisciplinary, cost-effective, systemic and evidence-informed approach.
To learn more about NC START in North Carolina, click on the following links:
To learn more about emergency and crisis services in North Carolina, click on the following links.
---
Trillium requires priority admission to all women who are pregnant and injecting drugs, pregnant and using substances and other individuals who are injecting drugs.