Services for Medicaid–Eligible Children: Early and Periodic Screening, Diagnosis and Treatment (EPSDT)
Trillium reviews preventive health screenings to improve the overall health of children. Trillium will cover services, products, or procedures for a Medicaid member under age 21 if the service is medically necessary to correct a defect, physical or mental illness, or a condition found through a screening examination.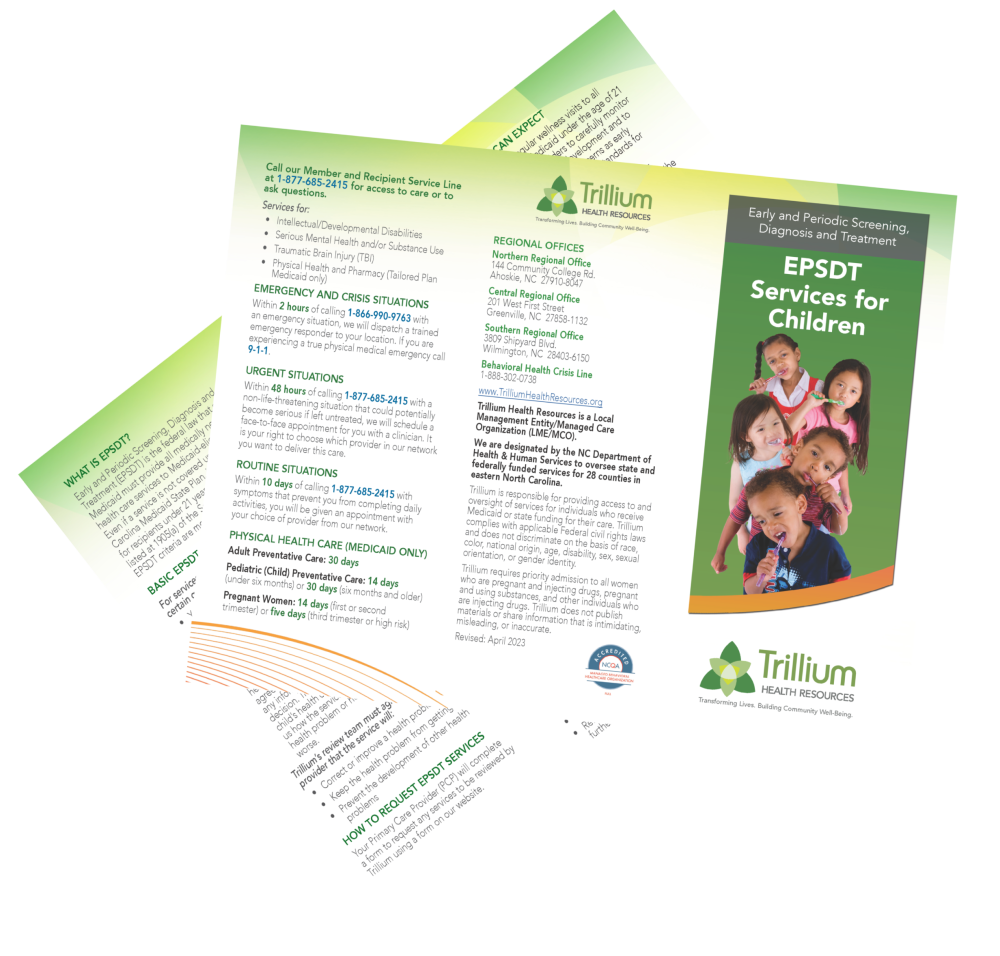 See our brochure
EPSDT Required Services and Coverage
The assigned primary care provider (PCP) is responsible for EPSDT services, including screening, diagnosis and treatment. 
Screening services include:
Routine physical examinations as recommended and updated by the American Academy of Pediatrics (AAP) "Guidelines for Health Supervision III" and described in "Bright Futures: Guidelines for Health Supervision of Infants, Children and Adolescents"

Screening for developmental delay at each visit through the age 5
Screening for Autism Spectrum Disorders per AAP guidelines

Health and development history
Unclothed physical exam
Development assessment and behavioral health screening
Assessment and provision of immunizations as appropriate for age and health history, in accordance with the schedule for pediatric vaccines established by the Advisory Committee on Immunization Practices
Assessment of nutrition status
Vision testing
Hearing testing
Laboratory procedures appropriate for age and population groups, including blood lead screening
Oral health assessments, evaluations, prophylaxis and oral hygiene counseling for all children at preventive visits at regular intervals and in accordance with state Oral Health Periodicity Schedule.
Infant members under age 1 must be referred to a dentist or dental professional working under the supervision of a dentist as part of the Medicaid Fee-for-Service program
Anticipatory guidance and health education
Referral for additional services if indicated for further diagnosis and treatment
services.
Trillium will ensure and verify that network behavioral health providers coordinate with Primary Care Providers and specialists conducting EPSDT screenings. Trillium will not make an adverse benefit determination on a service authorization request for a child until the request is reviewed. 
For more information, please view our EPSDT Policy.
For more information: