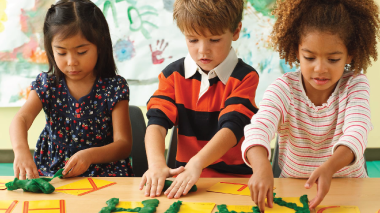 EPSDT's goal is to assure that individual children get the health care they need when they need it – the right care to the right child at the right time in the right setting.
What Is EPSDT?
Early and Periodic Screening, Diagnosis and Treatment (EPSDT) is the federal law that says Medicaid must provide all medically necessary health care services to Medicaid-eligible children. Even if a service is not covered under the NC Medicaid State Plan, it can be covered for recipients under 21 years of age if the service is listed at 1905(a) of the Social Security Act and if all EPSDT criteria are met.
Developmental and Behavioral Screening
Periodic developmental and behavioral screening during early childhood is essential to identify possible delays in growth and development, when steps to address deficits can be most effective. These screenings are required for children enrolled in Medicaid.
Further, EPSDT provides for treatment and services that are needed to "correct or ameliorate defects and physical and mental illnesses and conditions," regardless of whether the requested service is covered in the NC State Plan for Medical Assistance. This means that children under 21 years of age can receive services in excess of benefit limits, even if the service is no longer covered or not covered under the State Plan.
According to CMS, "ameliorate" means to improve or maintain the beneficiary's health in the best condition possible, compensate for a health problem, prevent it from worsening, or prevent the development of additional health problems.
Basic EPSDT criteria include:
the service must be covered under 1905(a) of the Social Security Act
it must be safe, effective, generally recognized as an accepted method of medical practice or treatment,
cannot be experimental or investigational (which means that most clinical trials cannot be covered).
As one outcome of a National EPSDT Improvement Workgroup, the Center for Medicaid & CHIP Services is developing a set of strategy guides, each on a specific topic, to support states and their partners as they implement the EPSDT benefit. Each strategy guide identifies specific, doable approaches to improve access, utilization and quality of care for children and adolescents enrolled in Medicaid. Examples of state successes are offered along with web-based links to resources, tools and more in-depth information.
Resources:
Requesting EPSDT Services
All requests for MH/IDD/SA services for Medicaid-eligible children under the age of 21 are reviewed using EPSDT criteria. Requests for NC Innovations Waiver services are reviewed under EPSDT when requested services are both on the Waiver and are also a covered service in SSA 1905a. Most NC Innovations Waiver services are not covered under the Social Security Act (i.e. respite, home modifications and all habilitative services).
To request a service that is not covered by the State Plan but is covered under 1905(a) of the Social Security Act, please submit the completed form below using secure email to the Trillium Health Resources UM Department, at UM@TrilliumNC.org.  You may use additional sheets to supply any other information you think would be helpful. Include evidence-based literature, if available.
EPSDT Prior Approval Request Form
EPSDT Resources for Providers