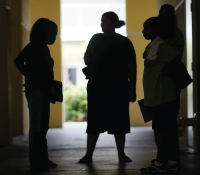 What is the Medicaid Waiver?
NC Medicaid provides health plans for serious behavioral health, traumatic brain injury (TBI), and intellectual/developmental disability for people receiving Medicaid. The Medicaid Waiver allows Trillium to be a Managed Care Organization (MCO) and Tailored Plan, which means we help manage the services and budget for Medicaid in our region. For people placed on the Tailored Plan, we cover physical health care and pharmacy services, too. People in NC Medicaid Direct also get physical services but they are not coordinated by Trillium. 
If you get Medicaid from any of the counties in Trillium's area and receive these services, you are a member of the Tailored Plan or NC Medicaid Direct.
Tailored Plan
People with serious mental health disorders, substance use disorders, intellectual/developmental disability (I/DD), or traumatic brain injury (TBI) needs
NC Innovations Waiver participants
NC Medicaid Direct
People who receive Medicaid AND Medicare
People who are medically needy
People in the HIPP program
Children with CAP/C services
People with CAP/DA services
Children and youth in foster care
Children and youth getting adoption help
Former foster youth
 
Note: other plans include the Standard Plan and EBCI Tribal Option. Please visit NCMedicaidPlans.gov for more information.
Available services include basic Medicaid services for North Carolina, plus some additional services for more serious behavioral health or I/DD conditions. Trillium puts importance on treatment in the most inclusive setting, attention to the whole person, and concentration on an individual's strengths.
To learn more about the Medicaid Waiver in North a Carolina, visit NC Medicaid.
Getting Medicaid Services
There are a variety of ways to apply for Medicaid through your local Department of Social Services (DSS). The easiest way to apply is online at NCDHHS ePASS. If you cannot apply online, you can also:
Apply in person at your local DSS office.
Fill out a paper application and mail to or drop it off at your local DSS office.