Investing In the Health and Well-Being of the Communities We Serve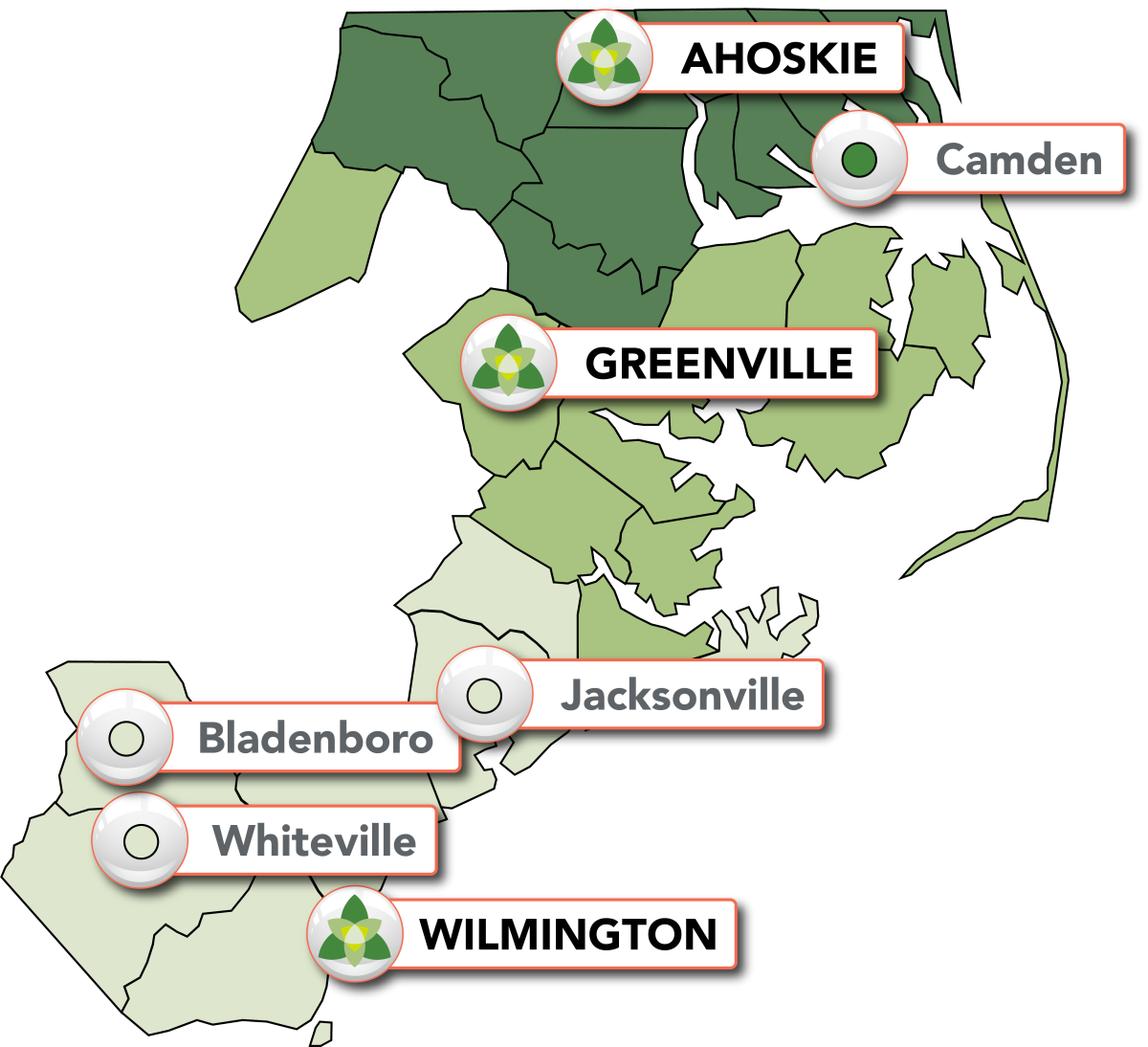 Trillium Health Resources is a Managed Care Organization (MCO) that manages serious mental health, substance use, and intellectual/developmental disability services in eastern North Carolina. For individuals receiving Medicaid through the Tailored Plan, we cover physical health care and pharmacy services (upon launch) as well. We cover the following counties: Beaufort, Bertie, Bladen, Brunswick, Camden, Carteret, Chowan, Columbus, Craven, Currituck, Dare, Gates, Halifax, Hertford, Hyde, Jones, Martin, Nash, New Hanover, Northampton, Onslow, Pamlico, Pasquotank, Pender, Perquimans, Pitt, Tyrrell, and Washington.
We have experience with the needs of the individuals and communities we serve. Our top focus is delivering the right services, in the right amount, at the right time. We know our region and the people who live in our counties. We know how to treat, support, and serve them most effectively
We work with our provider network to build and strengthen foundations of well-being and help deepen connections between citizens and their communities. Together with our state leaders, we are invested in the future of the public behavioral health system to help everyone in our region.
Our communities are only as strong as their people. Trillium cares and fights for the well-being of our citizens. Well-being needs a sturdy foundation at the start to prevent issues later and keep it standing through all kinds of weather. Our number one focus is helping every person we serve get the services needed to improve well-being and live a fulfilling life. We're invested in every one of you.
MISSION:
Transforming lives and building community well-being
through partnership and proven solutions.
VISION:
For every community and individual we serve to reach their fullest potential.
Trillium manages services for:
Medicaid members placed on the Tailored Plan. 
Medicaid members placed in NC Medicaid Direct. 
People without insurance or who are underinsured with state-funded behavioral health services. 
The Innovations Waiver 
Non-medical services such as supported employment.
In addition, we receive local dollars (from counties, etc.) for prevention, training on mental health, and wellness. 
We welcome your feedback, both good and bad. Knowing about problems helps us make improvements. Hearing about good experiences gives us important information about our providers. Please call Member and Recipient Services at 1-877-685-2415 let us know about any issues with your care, or you can visit our Complaint | Grievance form to file a complaint. 
---
Trillium Office Locations
---