Meeting You Where You Are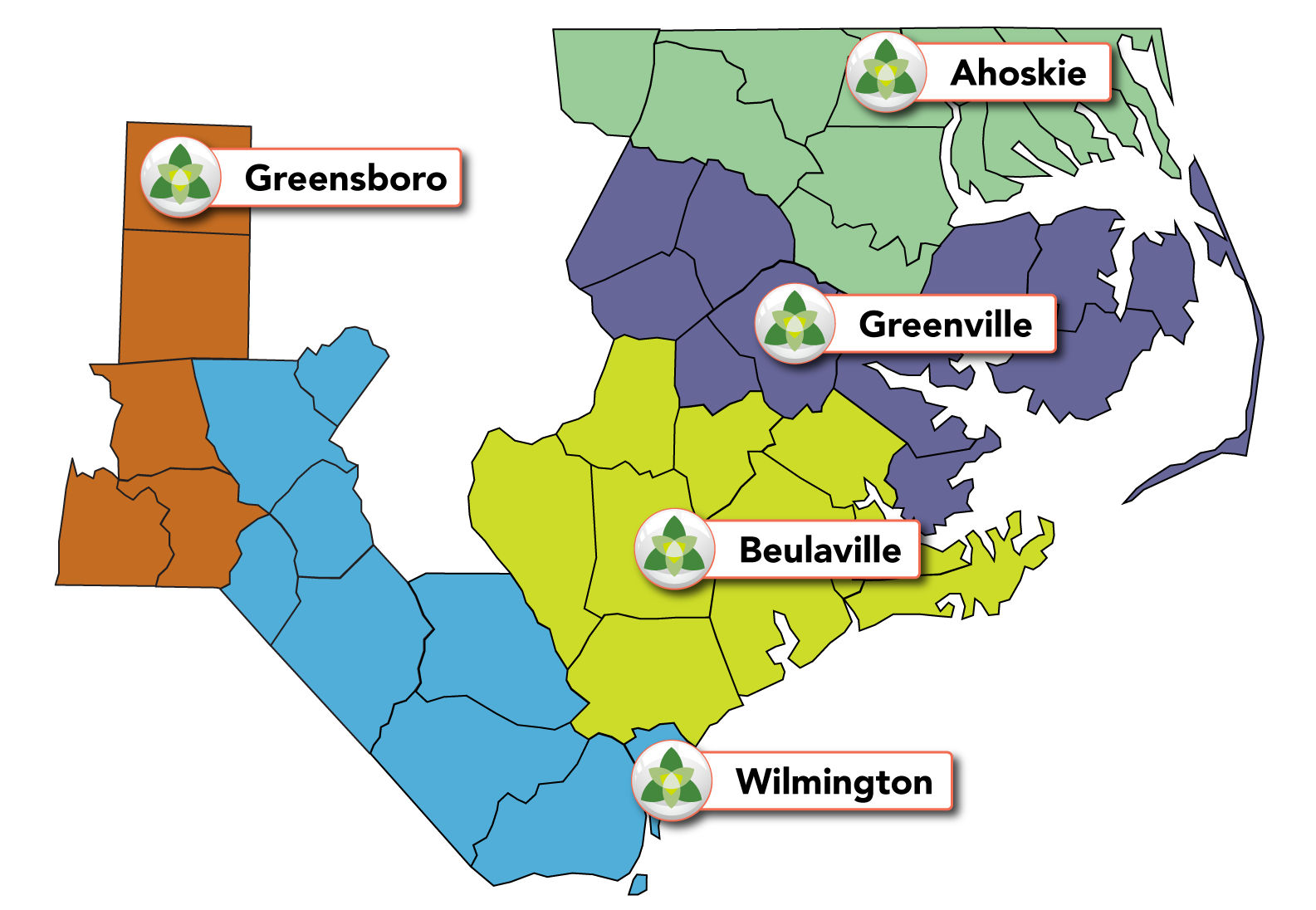 We partner with health care providers and community stakeholders in our 28 counties to build and strengthen foundations of well-being and help deepen connections between citizens and their communities. We are invested in the future of the public behavioral health system for the benefits of the individuals and communities we serve, because building well-being in our communities depends on many people working together. Individual well-being leads to community well-being; everyone should have the chance to reach their potential and fully contribute to our communities.
Although we serve 28 counties, we recognize that every community is different and our local presence allows us to understand the diverse needs of eastern North Carolina. We want to include you in the conversation about what your community needs.
Department of Social Service County Locations
Trillium Health Resources is widely accessible and deeply integrated into our communities to help improve access, reduce administrative burdens on providers, and increase the quality of services. To do this, we have three Regional Offices, each with a Regional Operations Director dedicated to your area.
The Governing Board collaboratively plans budgets and monitors Trillium operations. It is composed of an equal number of members from each Regional Advisory Board. This two-tiered governing structure allows for accountability of services within our communities, a local service model, and local advocacy opportunities for individuals and family members. Each region has a Regional Advisory Board to ensure the local voice is heard on the Trillium Governing Board.
We want to meet you where you are to create positive change and empower people to transform their lives. Click on the region you live in to learn more about the makeup of your Regional Advisory Board.
Bertie
Camden
Chowan
Currituck
Gates
Halifax
Hertford
Martin
Northampton
Pasquotank
Perquimans
Beaufort
Craven
Dare
Hyde
Nash
Pamlico
Pitt
Tyrrell
Washington
Bladen
Brunswick
Carteret
Columbus
Jones
New Hanover
Onslow
Pender
Tribal Contracting Specialist
Elena Escobar
Elena.Escobar@TrilliumNC.org
Contracting point of contact for both Indian Health Care Providers (IHCP) and the Eastern Band of Cherokee Indians (EBCI).
---