Meeting You Where You Are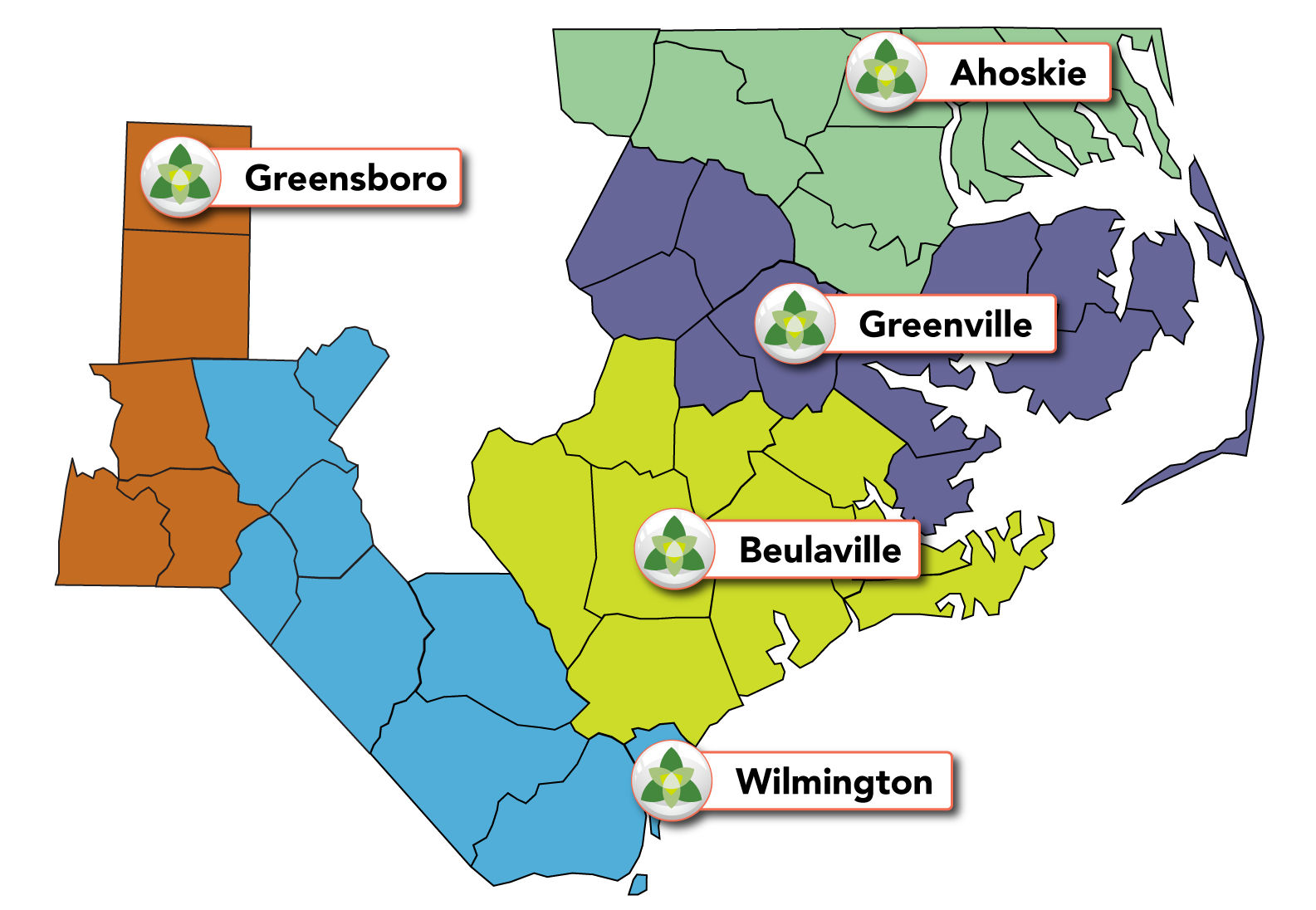 We partner with health care providers and community stakeholders in our counties to build and strengthen foundations of well-being and help deepen connections between citizens and their communities. We are invested in the future of the public behavioral health system for the benefits of the individuals and communities we serve, because building well-being in our communities depends on many people working together. 
Although we serve many counties, we recognize that every community is different and our local presence allows us to understand the diverse needs of eastern North Carolina. We want to hear what your community needs.
Department of Social Service County Locations
Trillium is widely accessible and deeply integrated into our communities to help improve access, reduce administrative burdens on providers, and increase the quality of services. To do this, we have three Regional Offices, each with a Regional Director dedicated to your area.
The Governing Board collaboratively plans budgets and monitors Trillium operations. It is composed of an equal number of members from each Regional Advisory Board. This two-tiered governing structure allows for accountability of services within our communities, a local service model, and local advocacy opportunities for individuals and family members. Each region has a Regional Advisory Board to ensure the local voice is heard on the Trillium Governing Board.
Regional Advisory Board
Trillium Health Resources has a 2-tiered board structure to keep governance close to the communities we serve through Regional Advisory Boards.  These Advisory Boards, in turn, elect representatives to the Governing Board. 
Purpose
To involve local stakeholders to respond to unique community needs and priorities 
To promote understanding and collaboration at the local level
To provide local participation in monitoring the performance and services within each region
Responsibilities 
Advise the CEO on evaluation and hiring of future Regional Directors
Recommend priorities for expenditures of state/county funds for development of the annual budget
Recommend priorities for the area-wide strategic plan
Monitor resolution of issues
Identify community needs and concerns
Identify gaps and needs; make recommendations on the service array
Monitor performance at the regional level:

Access to Care
Financial Status and Expenditures
Service Delivery
Provider Network Size and Composition
Member Satisfaction
Composition
One (1) CFAC Chair or Designee
Two (2) members from each county, appointed by respective Boards of County Commissioners 

County Commissioner or Designee
Other appointees who meet criteria outlined in G.S. 122C-118.1
For meeting schedules and rosters of each Regional Advisory Board, click on the links below.
Tribal Contracting Specialist
Elena Escobar
Elena.Escobar@TrilliumNC.org
Contracting point of contact for both Indian Health Care Providers (IHCP) and the Eastern Band of Cherokee Indians (EBCI).
---