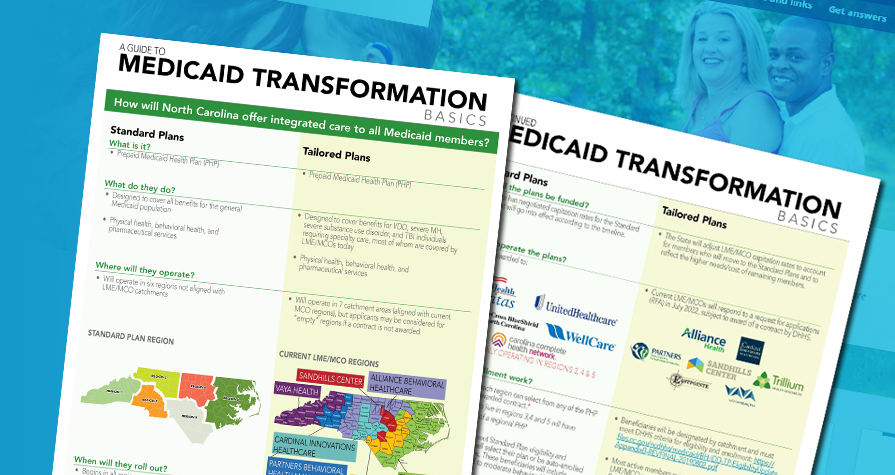 Trillium Health Resources is pleased to announce that we are one of seven managed care organizations awarded a Behavioral Health Intellectual/Developmental Disability (I/DD) Tailored Plan contract to serve members and recipients in our 28 counties. Tailored Plans will coordinate integrated services for physical and behavioral health care needs, with a launch date of December 1, 2022. For more information, please see the Behavioral Health I/DD Tailored Plans: Updated Launch Fact Sheet.
The 1115 Waiver seeks to transition Medicaid services in North Carolina from fee-for-service to managed care. Services will be offered through two distinct products: Standard Plans and Behavioral Health (BH) and Intellectual/Developmental Disabilities (I/DD) Tailored Plans. Standard Plans will serve most Medicaid and NC Health Choice members, including all adults and children and those with mild to moderate behavioral health needs. 
While the State will distribute and share information directly with members, providers, and stakeholders, Trillium and other MCOs will also personalize information as needed to send out. Please visit the pages below to learn more.
While Trillium currently coordinates services for behavioral health and intellectual/developmental disability needs, with the launch of Standard and Tailored Plans we will have broader capabilities to serve members including physical health care and pharmacy needs.
As part of Medicaid Transformation, NCDHHS requires Tailored Plans to contract with a Standard Plan partner for access to their network of physical health providers. Trillium looks forward to working with Carolina Complete Health, a joint venture partnership between the North Carolina Medical Society (NCMS) and Centene Corporation, a Fortune 50 company with over 30 years of experience in managed care programs.