Trillium Health Resources will launch our Tailored Plan on April 1, 2023 to serve members in our catchment area. The Trillium Tailored Plan will coordinate integrated services for physical and behavioral health care needs, improving health outcomes and easing access for individuals we serve.
MEDICAID MEMBERS INFORMATION
Tailored Plans are specifically designed to serve the complex needs of individuals with significant behavioral health disorders, intellectual and developmental disabilities, and traumatic brain injury — populations Trillium and all other LME/MCOs have long served. The Tailored Plans will also serve uninsured individuals currently receiving state-funded services, regardless of their diagnosis.
Some members will remain in Medicaid Direct; please follow any instructions in the letters you will get later this year.
Tailored Plan Information Session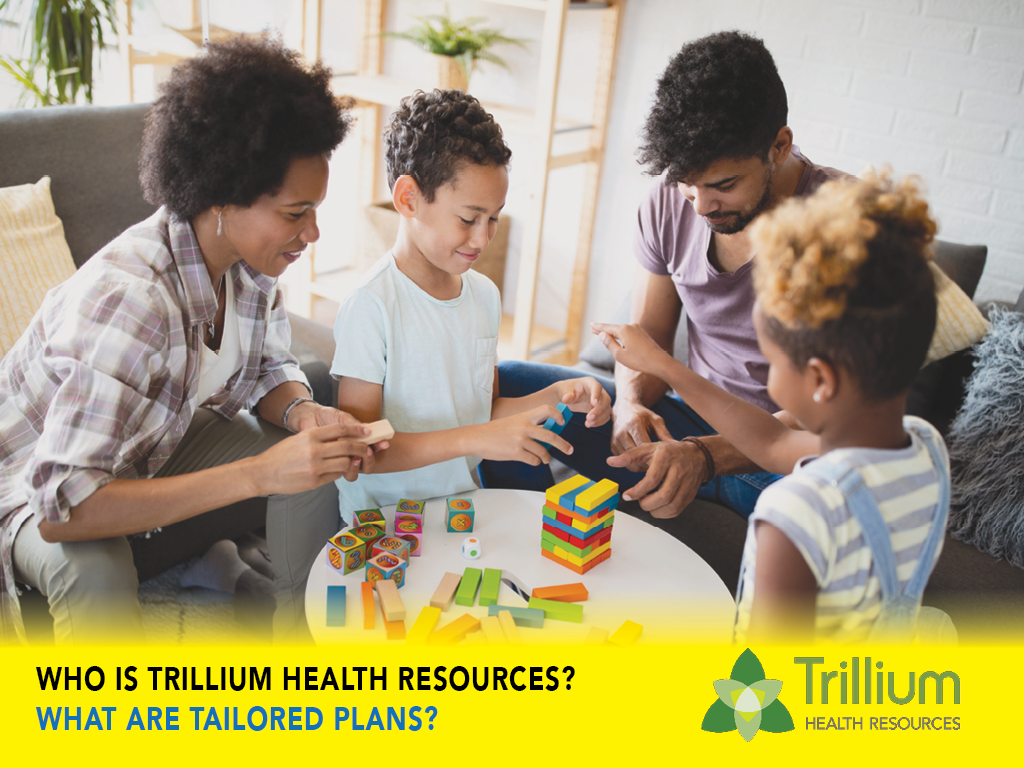 Live, Virtual Information Session for Members & Recipients
For Members
Changes in Tailored Care Management - 1915i information
Monday, Nov 21 2022
9:00 AM - 10:00 AM
Register for this session
What is the NC Medicaid Ombudsman Program? Will my rights change?
Trillium Advantage and Value-Added Services, Health Promotion and Prevention Programs
What new providers are joining Trillium's network for Medicaid? What new services will be available for people with Medicaid coverage?
Choosing a PCP, How to change PCP, and Auto-enrollment
Requesting a new Medicaid card or other materials; How to receive information
Open Question & Answer
June 30 Session Members and Recipients
What to expect when the Trillium Tailored Plan launches?
While Trillium currently coordinates services for behavioral health and intellectual/developmental disability needs, with the launch of the Trillium Tailored Plan, we will have broader capabilities to serve members including physical health care and pharmacy needs.
With the launch of the Trillium Tailored Plan, we will start exciting new programs and embrace whole-person care. Here are a few changes you will see: 
New terms, including Medicaid members and State-funded recipients; there will be separate handbooks for members and recipients to review appropriate information and requirements.
Our Member and Recipient Services will be available on Saturdays as well as Monday through Friday.
We will help schedule Non-Emergency Medical Transportation for members to get to doctors appointments
The launch of our 24-hour Behavioral Health Crisis Line and Nurse Line.
New benefits listed on our website for physical health care and pharmacy services.
Transition to 1915(i) from the 1915(b) waiver, including modifications to existing services and new benefits.
An updated provider directory that will include physical health care providers.
New value-added and in lieu (pronounced "loo") of services that are created by Trillium and approved by NCDHHS to uniquely meet the needs of our populations.
NC Medicaid Ombudsman program where you get help with questions and issues. An ombudsman is an impartial (fair) third party who can help answer questions and resolve issues.
New ways to improve your well-being through health promotion materials (such as diabetes resources), population health initiatives, and a tobacco cession program to stop smoking.
A shift from care coordination to Tailored Care Management where a care manager works with you and a team of medical professionals and approved family members or other caregivers to consider your unique health-related needs and find the services you need in your community. 
INFORMATION FOR MEMBERS
Medicaid members do not need to do anything at this time. We will soon start sharing opportunities for members to learn about changes to procedures, new services available, and what to expect. This will include information sessions and opportunities to ask questions.
Please follow these pages, sign up to receive our emails, and let your care manager know if you would like to opt in to receive text messages.
Members will be able to request transition to the Tailored Plan if they have been placed on the Standard Plan and choose to be served by the Tailored Plan. Members who use certain services for their developmental disability, mental illness, traumatic brain injury, or substance use disorder (for example, need access to State-funded or B3 services, are on Innovations Waiver, OR are on the Innovations waiting list) may choose to follow the directions in the letter and ask to be served through the Tailored Plan. Forms to request to stay with the Tailored Plan can also be found on the enrollment broker's website.
The Enrollment Broker's call center will be open for the Tailored Plans soon:: 
Phone: 1-833-870-5500 (TTY: 1-833-870-5588)
Hours of operation: 7 a.m. to 5 p.m., Monday through Saturday
Please visit NCMedicaidPlans.gov for more information.
Medicaid Transformation Information